Prehospital Emergency Care
Better chances for patients with acute stroke by treatment in a mobile stroke unit with extended possibilities for prehospital diagnosis and therapy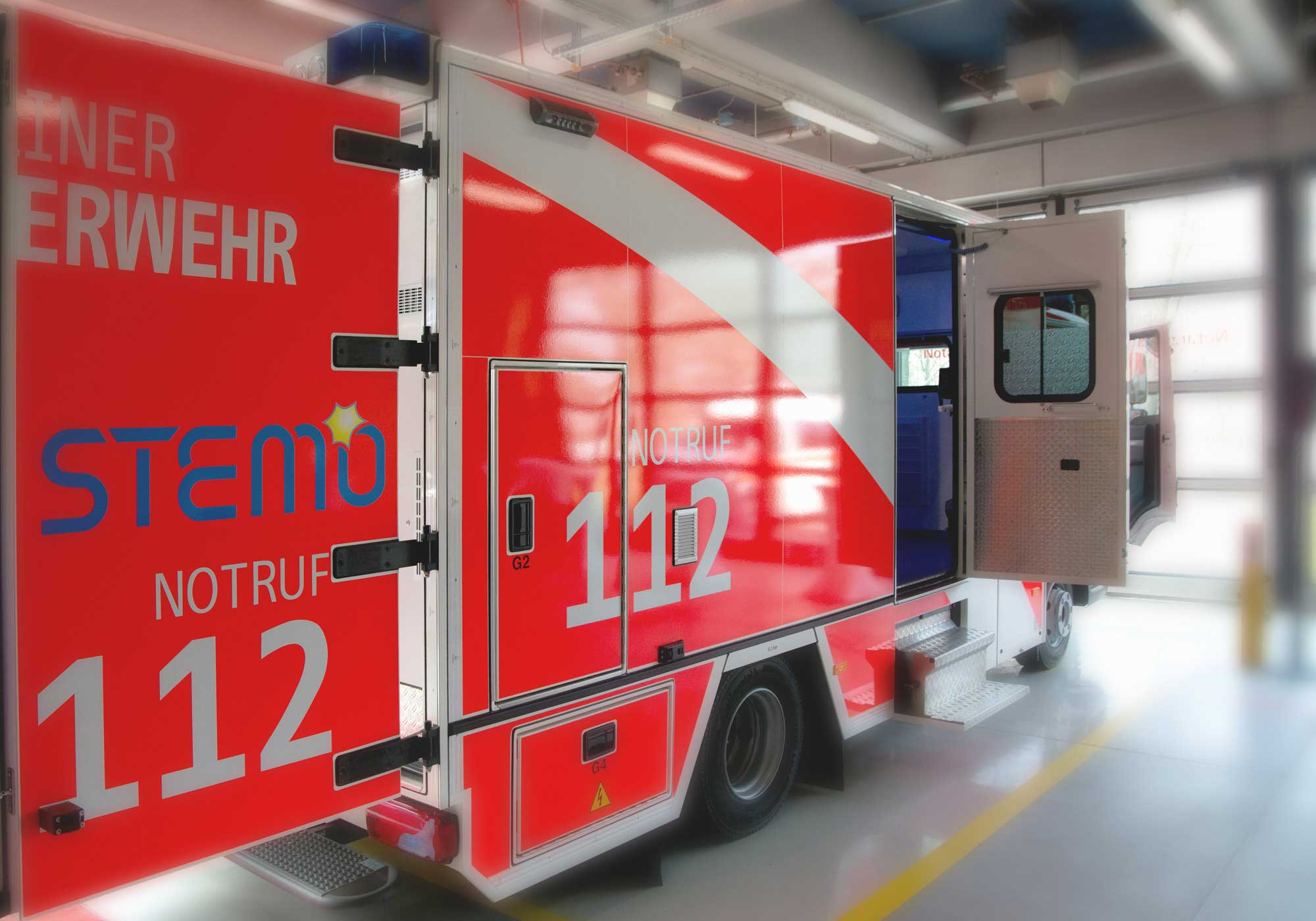 Prehospital diagnostics and therapy start at hospital level
With the support of the Stroke Emergency Mobile (STEMO) there is a considerable time saving between an emergency call and the start of lysis therapy, thereby reaching significantly more stroke patients effectively.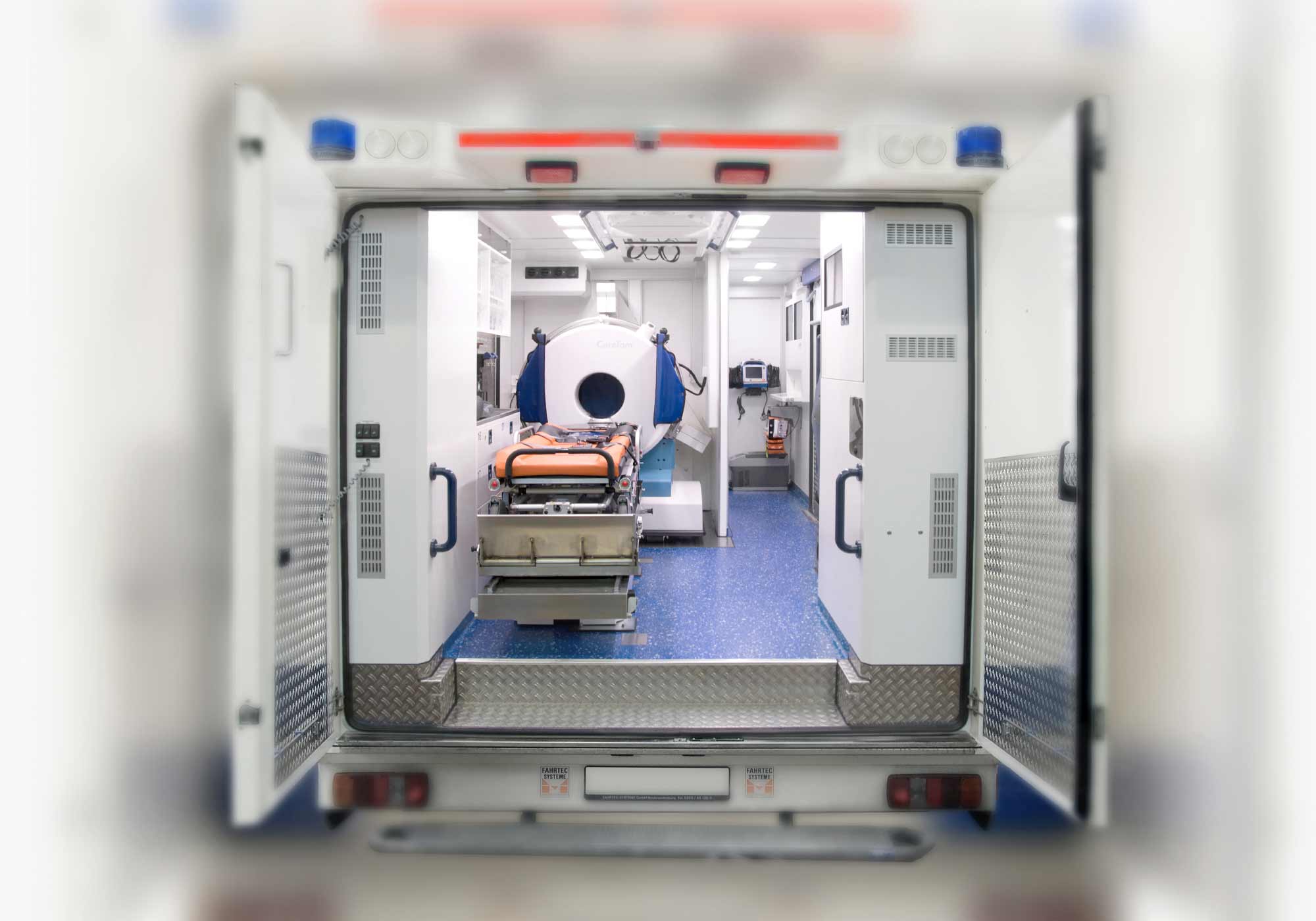 Integrated telemedicine, laboratory and medical technology for diagnostic and therapeutic support
Laboratory blood tests can be carried out immediately on board of STEMO with the aid of various biochemical laboratory systems, in order to provide emergency physicians with a better basis for their therapeutic decisions.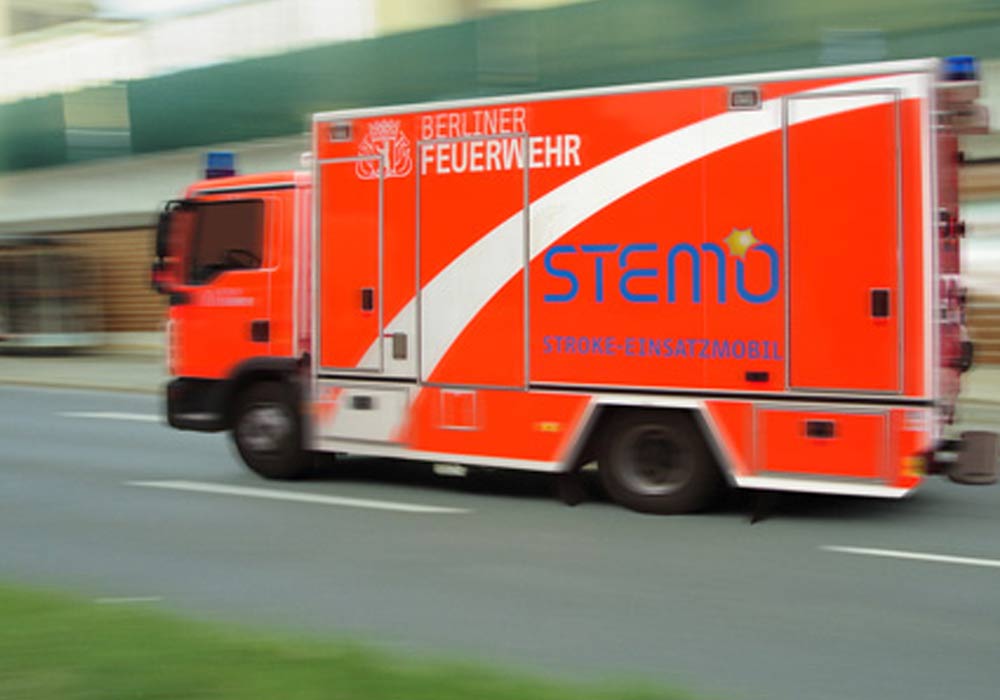 Redundancy solutions for system reliability and high availability
Real-time communication with specialists in the special centres and teleradiological findings support the emergency services on site. To ensure a connection in case of failures, overloads or lack of mobile phone network coverage, a satellite radio system can be installed on the vehicle in addition to bundling such communication channels.
Use of special rescue vehicles like STEMO is an advantage for doctors and stroke patients
Many advantages for doctors and patients
Essential importance of the time factor for the severity and consequences of a stroke
Every minute counts in a stroke, because no other tissue is irreversibly damaged as quickly as brain tissue when the blood supply is interrupted. A central concern for the organization of prehospital diagnostics and therapy is the greatest possible streamlining of time sequences within the stroke treatment pathway. The research results indicate that so-called mobile stroke clinics allow treatment for significantly more patients within the first hour after onset.
Emergency medical telemedicine with integrated medical technology for instrumental diagnostics of stroke patients
Telemedical support of the emergency services in the diagnosis by a neuroradiologist

---

Prehospital therapy decision for thrombolysis and thrombectomy or transport to a neurosurgical center

---

Consistent integration and use of telemedicine for documentation, radiology and audiovisual communication with a neurological centre
Categorization and assessment of the severity of the stroke at hospital level directly in the ambulance
Specific interrogation algorithm in the rescue control centre

---

Prehospital differential diagnostics by means of computer tomography and blood count diagnostics

---

Start of the lysis therapy on site in the mobile stroke unit
An innovative prehospital stroke care concept supported by telemedicine
STROKE-EMERGENCY-MOBILE
The care concept for acute stroke was developed by a Berlin-Brandenburg research consortium and successfully uses several telemedicine applications.
Mobile-Stroke-Unit
Clinical trials demonstrate that with the help of mobile stroke units such as STEMO it is possible to treat affected patients within the so-called "golden hour" after the occurrence of failure symptoms. In Berlin, three stroke units are already in daily use throughout the city.
The Berlin research team presented the results of the current clinical trial at the International Stroke Conference.
Stroke, the world's leading cause of permanent disability, is a major challenge for our healthcare systems, with the resulting and ever-increasing financial expenditures for care and rehabilitation of those affected. The MOBILE-STROKE-UNIT concept represents a sustainable and efficient solution on the way to further optimization of the stroke treatment pathway and stands for an improvement in the condition of those affected after a stroke.
The STROKE-EMERGENCY-MOBILE and other innovative telemedicine solutions are provided by MEYTEC GmbH.
MEYTEC has competences in telemedicine and medical technology resulting from many years of experience in the implementation of telemedicine applications, constant innovative further development of systems and services as well as intensive cooperation with medical practitioners in practice.
Please don't hesitate to contact us,
we are here to talk about your needs and requirements.